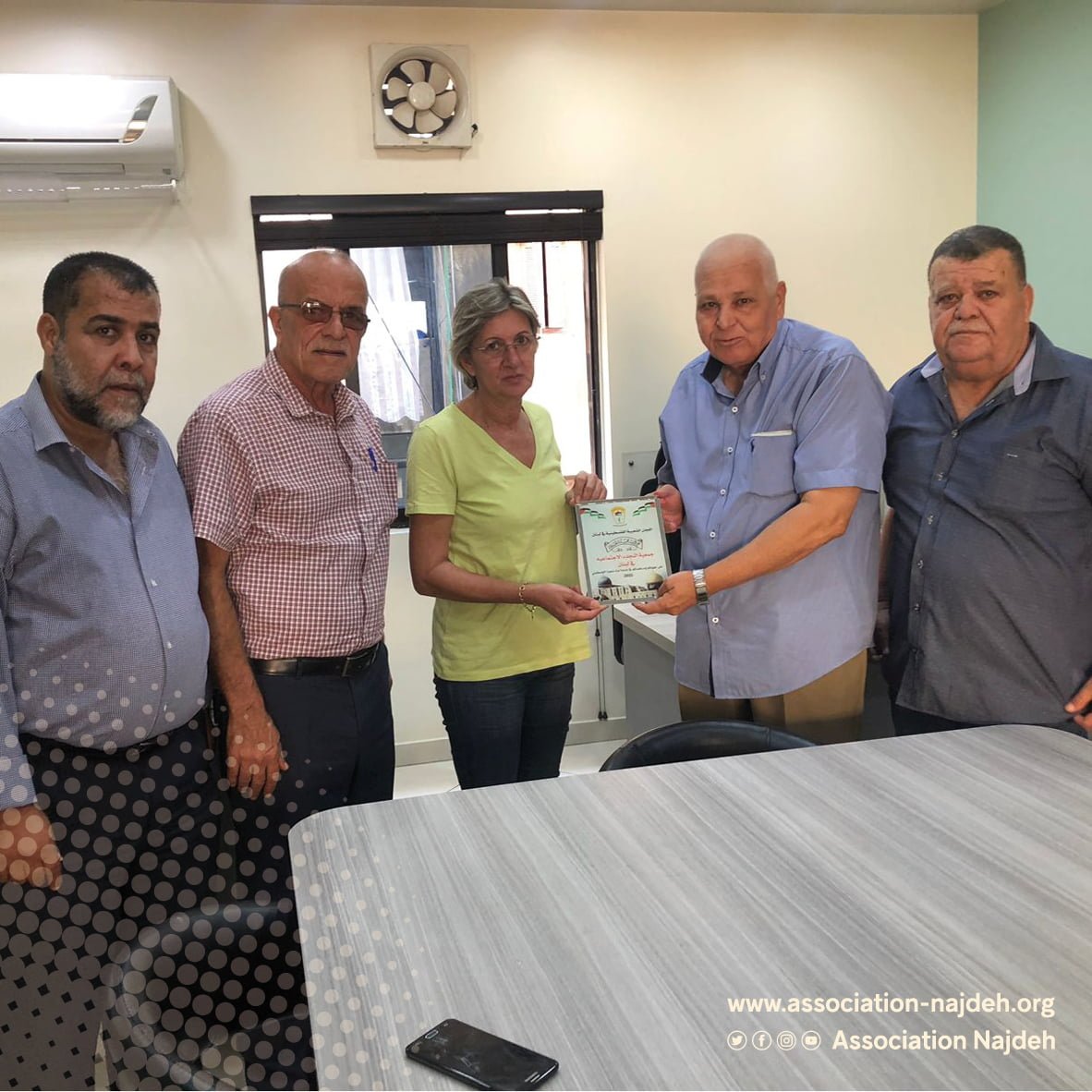 The Palestinian Popular Committees in Lebanon Honour Najdeh Social Association
In Beirut, the Najdeh Social Association received a delegation from the leadership of the popular committees in Lebanon, headed by the engineer Moneim Awad, Secretary of the Palestinian Popular Committees in Lebanon. The delegation included members of the Higher Follow-up Committee of the Popular Committees, Mr. Abu Mahmoud Ismail, Mr. Said Murad, and Mr. Abu Omar Al-Qutb.
The delegation was received by Mrs. Leila El-Ali, Director of the Najdeh Social Association, and the visit came within the framework to appreciate the national and social role of the Association.
The visit was initiated by Engineer Moneim Awad, by talking about the projects carried out by the Palestinian People's Committees. The Department of Palestinian Refugee Affairs in the Palestine Liberation Organisation adopted these projects under the directives of Doctor Ahmed Abu Houli, member of the Executive Committee of the Palestine Liberation Organisation and head of the Department of Palestinian Refugee Affairs, and the keenness of His Excellency the Ambassador of the State of Palestine in Lebanon, Ashraf Dabour, to follow up on all issues of concern to our people in the camps and gatherings of Lebanon.
Engineer Moneim concluded his speech by thanking Association Najdeh for its financial support for the purchase of diesel in order to operate well pumps in Palestinian communities in the Tyre area, and in turn Ms. Leila spoke about what the Najdeh Social Association is doing in supporting initiatives to enhance community resilience, especially in Shatila and Dbayeh camps.
At the end of the visit, Engineer Menem presented a shield of appreciation and honour to Najdeh Social Association as a token of what the association offers to our Palestinian people in Lebanon.