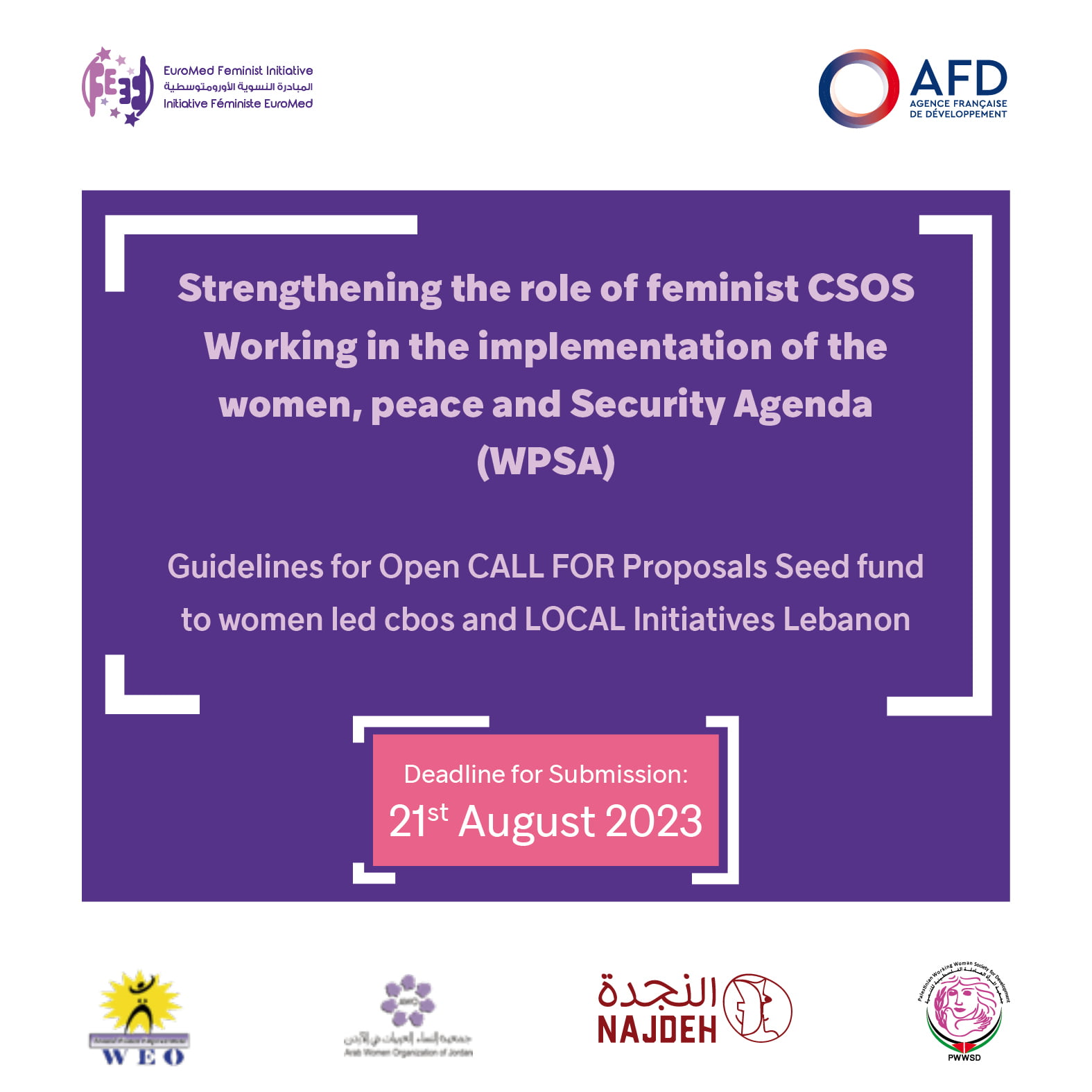 Call for Proposals Association Najdeh announce the opening Call for Proposals, Strengthening the role of feminist CSOS Working in the implementation of the women,
Strengthening the role of feminist CSOS Working in the implementation of the women, peace and Security Agenda (WPSA)
Guidelines for Open CALL FOR Proposals  Seed fund to women led cbos and LOCAL Initiatives Lebanon
Background
The «Strengthening the role of feminist CSOs working in the implementing of the Women, Peace and Security Agenda (WPSA)» program aims at contributing to the effective implementation of the WPSA in Iraq, Lebanon, Jordan and Palestine through empowering feminist civil society organisations (CSOs) and women-led Community Based Organizations (CBOs) to play a leading role in implementing the WPSA, combating Violence Against Women and Girls (VAWG) comprehensively and enhancing women's participation at local, national and regional levels. The program started on 1st March 2023 and will run until 28th February 2026.
The program is structured around three components:
      •     Provision of financial support to national and local CSOs and CBOs
      •     Capacity-building and learning
      •     Regional networking and exchange of expertise and practices
The program is implemented by a consortium of five organisations in the four countries: EuroMed Feminist Initiative (EFI), Women Empowerment Organisation (WEO) in Iraq, Arab Women Organisation (AWO) in Jordan, Association Najdeh (AN) in Lebanon and Palestinian Working Women Society in Development (PWWSD) in Palestine. All are members of EFI, a policy platform that provides expertise in the field of gender equality and women's rights as inseparable from democracy building and citizenship, and advocates for political solutions to all conflicts, and for the right of peoples to self-determination.
This program is funded by the Agence Française de Développement (AFD) which implements France's policy on international development and solidarity. Through its financing of non-governmental organizations (NGOs) and the public sector, as well as its research and publications, AFD supports and accelerates transitions towards a fairer, more resilient world. It also provides training in sustainable development (at AFD Campus) and other awareness-raising activities in France.
The project will be implemented in Lebanon targeting seven governorates including (Akkar, Baalbek-Hermel, Beirut, Beqaa (Zahlé), Mount Lebanon, North and South)).
For more information download the attached files below,
Kindly note that the last date for submission is 21-08-2023